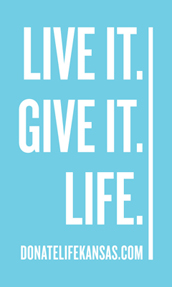 The Kansas Organ and Tissue Donor Registry is dedicated to saving and enhancing lives by registering organ, eye and tissue donors. It was established in 2010 by Midwest Transplant Network.
In addition to having the

on your driver's license or carrying a signed donor card, The Kansas Organ and Tissue Donor Registry now allows you to express your legal authorization, securely, online, to become an organ, eye and tissue donor. The registry ensures your wishes will be honored when you die.
Through your generous gifts, you can save as many as eight lives through organ donation, enhance another 50 through tissue donation, give the gift of renewed vision to two people and change the lives of millions through disease research and therapy. At any given time, thousands of your fellow Kansans are waiting for a much-needed organ or tissue transplant. For some, a transplant is their only hope for survival.
REGISTER TO BE A DONOR TODAY!